As the Rugby World Cup continues to grip the Home Nations, the Reading Rugby Business Network held their latest meeting on Wednesday October 14th to discuss the performances of the teams in the pool stages and to look forward to the knock out matches.
A panel consisting of New Zealander Glenn Delaney, Head of Rugby Operations at London Irish, Simon Halliday, former Bath and England centre who played in the 1991 World Cup final and now Chairman of European Professional Club Rugby and David Paice, Australian by birth and holder of 8 England caps, and player at London Irish, answered questions put to them by RRBN founder Stuart Spindler and a very knowledgeable audience of over 60 local business people.
The members were privileged to have up to date insights from these three on the Pools, the performances of the minor nations, how the top 8 teams had started their quest for glory, the England departure from the tournament and the future of the coach Stuart ancaster and the RFU. They also made predictions on the winners which were New Zealand and 2 votes for Australia.
The meeting was held at Haslams, whose estate agency is one of Reading's longest established businesses, and Managing Director Steve Woodford and his team were delighted to welcome the RRBN to their prestigious new offices in Friar St. They were excellent hosts and their organisation and refreshments were much appreciated by everyone.
Main image from left to right
Stuart Spindler (founder of RRBN), Tim Harding (Haslams), Simon Halliday, Steve Woodford (MD of Haslams), Glenn Delaney, Craig Hunter (Chairman- Reading Rugby Club) and David Paice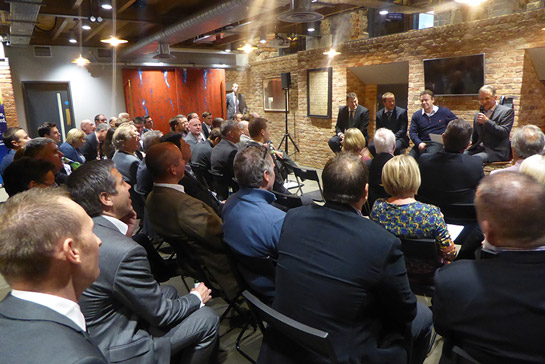 Other pictures are group pictures of the audience and speakers